Report Archiving
WinMed HIS for selected applications features report archiving automatically. These reports are daily, monthly, and annually reports. Reports requested by each user that are generated to Microsoft Word or Excel will be archived until that report is generated again. For the reports created automatically they are archived in a daily, monthly, and yearly directory. These archived reports will be archived to a yearly directory which contains all reports for the year.
Archiving Selections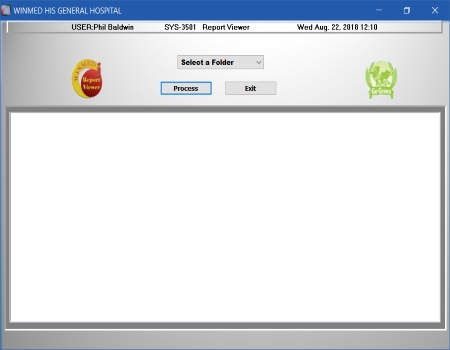 Application Selection
These screen are used to select the application that the user wants to view or to print. When the menu is selected a drop down menu will be displayed and the application can be selected.
Report Selection

Reports
The application selected will display archived reports by date, which is formatted as Year, Month, And Day. When one of theses dates is selected then all reports for that date will be displayed. In WinMed HIS all reports have a report letter and a four digit ID. When the requested report is selected the Microsoft application associated with the report will be loaded and the report will be displayed. For patient account daily processing cycle this also includes discharge billing, receivable billing, UB's, and 1500's.